Today, 7 out of 10 French people own a smartphone. And this rate of equipment climbs to 90% of 12-59 year olds. We count 80% of internet connections being made on our mobiles versus on computers. And if that is not enough to convince you, know that 25% of digital transactions are carried out on our smartphones (Source: Mobile Marketing Barometer).
You will therefore have understood the importance of this market today. And why missing it would be a big mistake that will cost you dearly!
But in concrete terms, what are the advantages of developing a mobile application for your brand or company? What will it bring you?
Do not doubt the potential of this powerful marketing tool, follow the guide: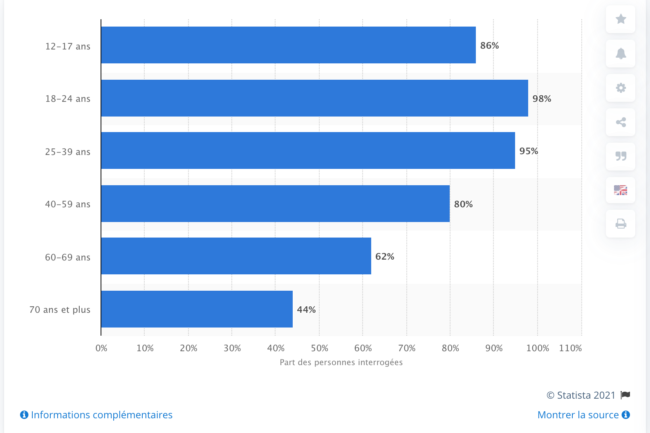 1. Improve accessibility to your services
The mobile application should not be a copy and paste version of your site. It is a simplified adaptation, the ergonomics of which are implemented to guide the user to the essentials. It must offer a new customer experience and allow them to quickly access your goods and services from a small screen while being on the go.
2.

Increase your notoriety

h3 >

Having a mobile app in 2021 means being modern. It means being close to your consumers. Mobile applications are developing a lot with the word of mouth phenomenon. And let's face it, launching a mobile app is more impressive than launching a site. This operation can even be the subject of a full-fledged digital marketing campaign. And the application will turn into a marketing tool in itself, at a lower cost. Indeed, it will cost you much less than a traditional marketing campaign. And the impact will only be greater.
3. Establish your branding
Tell me if I'm wrong, but having an icon with a logo to click on, rather than a url, and being able to access brand content instantly is much more visual and pleasant. And it also allows the user to better remember your brand image, to remember it better and therefore to identify with it better.
4. Boost your sales
Thanks to your app, you will make yourself ubiquitous.
Indeed, the French spend on average between 2 and 4 hours per day on their phone. And a lot of times we're not going to lie to each other, it's more to pass the time than anything else. We then find ourselves hanging out on our apps as we switch channels on TV, mechanically. This phenomenon, linked to the fact that the app is accessible from anywhere, anytime, further encourages compulsive shopping. And even more so these days!
For example, I would go to the sales on occasion. But given the repeated curfew / confinement situation, it's a bit complicated, it takes quite a bit of organization. Here, if I were to take a look at my favorite private-sales app instead. And presto, neither one nor two I find myself buying a whole bunch of things that I have absolutely no real need for. Bingo.
5. Retain your customers
The mobile application is a very good relationship marketing tool. It allows you to send push notifications to your consumers. Customized, personalized, you can send small messages to your customers to tell them the latest news, encourage them to buy, offer them promo codes and so on.
Note that the open rate push notifications is over 90% with a conversion rate 4.5 times higher than for e-mailing. It would be a shame to do without!
6. Create bridges between digital and physical
Make the link between your on-line and off-line systems. For example, send notifications to your customers after their purchase in store to ask them for their opinion on the service received, to rate your products. Allow them to track their orders at a glance, or benefit from exclusive promotions or be informed about your next events. Geolocation also gives you the ability to send targeted promotions and encourage your consumers to come to the store if they pass nearby. You can also offer a chat system for customer service. The possibilities are numerous and you will have plenty of fun.
7. Offering content that does not require an internet connection
The advantage of an app is that it does not necessarily require an internet connection to function. You can easily integrate offline services or use all the features of a smartphone such as geolocation, camera or microphone to enhance your offer. As a result, the user will be able to enjoy your services even in the subway or deep in the Gobi Desert. And that is pretty damn classy anyway.
Still in doubt about the usefulness of having a mobile application? Come discuss it with us 🙂